ARCTIC CHRONOLOGY
A Postal History Gallery of Related Events


1800-24





The Greenland Fisheries Supplied Information To Explorers To Reach
the Pole and the Route Beyond
1803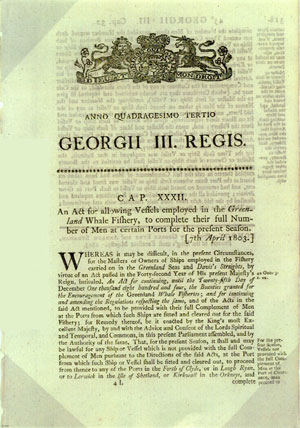 The Act of 1803 allowed vessels employed in the Greenland Whale Fishery to complete their full number of crew at certain ports. The French war was causing a problem for whalers to obtain able seamen, but the importance of this commercial venture was recognized by the government.
Kruzenstern Carries the Russian Flag By Sea Around the Globe
1803
Captain Adam Kruzenstern presented a plan to the Czar to use the Russian-American Company stations as a base to break into the Orient trade. The plan was approved and two ships with special envoys left Russia in 1803.

The flagship HOPE was unable to penetrate the barriers to foreign visitors in Japan and continued a long cruise which was virtually the first formal visit by Russia to many countries.

The second ship NEVA sailed to Kodiak and Sitka in time to play a key role in retaking Sitka from the Tlingit Indians in 1804. This proved to be critical in maintaining control during the Russian occupation period.
"That He Hath Not Enjoyed theBenefit Of Any Public Employment"
1819
Captain John Ross was on an inactive half pay status following the Baffin Bay Expedition of 1818. During periods of inactive retention, depositions were required to confirm salary entitlement.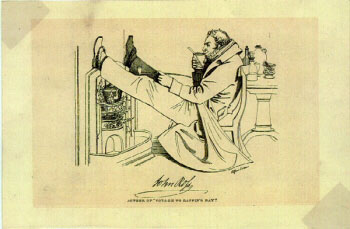 Insurance Against Pirates
1820
| | |
| --- | --- |
| | The vessels leaving Greenland often carried rich cargos and were insured for all losses, including piracy, as late as 1820. The MARY FRANCES sailed with a large insurance policy of about £500. |
A Courier With Good News
1820
| | |
| --- | --- |
| | Captain Edward Parry sent word to his crew waiting on the HMS HECLA that their work in Lancaster Sound in Baffins Bay had the approval of the Admiralty. A courier or other messenger carried this 1820 message to the anchored ship. |
Captain Parry In Davis Strait
1824
Parry wrote his patrons from the Arctic to report his status and that his experiment with "crew powered" paddle wheels propelled the FURY "a knot and a half through the water."

Mail was carried home on their own ship and was possibly delivered outside the regular mail.
| | | |
| --- | --- | --- |
| (Exhibition pieces courtesy of George Hall) | | |
---